Order Tasty Food in Trains Online
IRCTC & FSSAI Approved Restaurants
100% Assured Delivery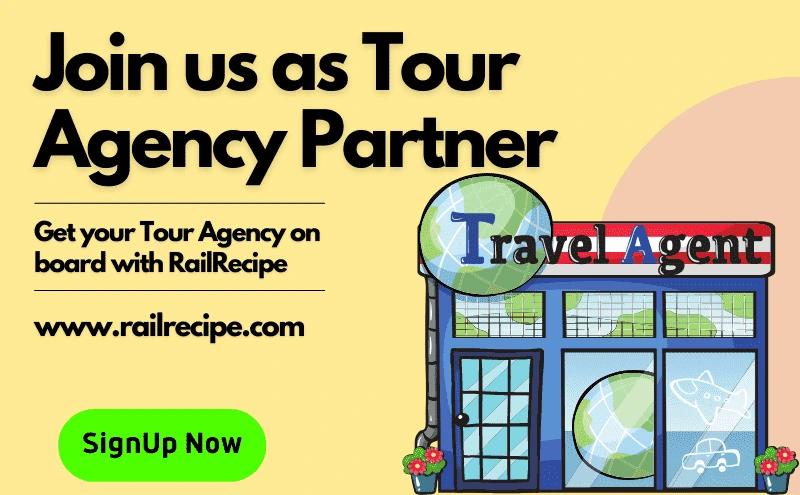 Zero Delivery Charges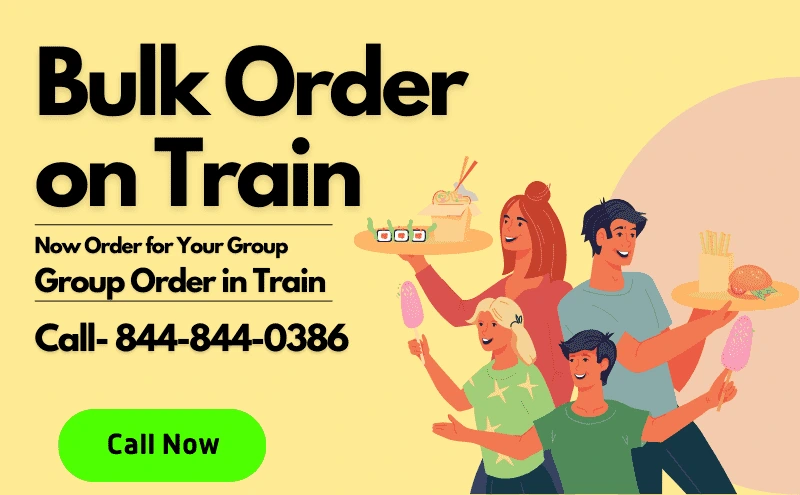 Order Food On Train With Easy Steps
Enter PNR/
Train No.
Choose Restaurant
Customize
Menu
Pay Via Prepaid/COD
On Seat
Delivery
RailRecipe Delivering Food in All Major Railway Stations
Looking for food in train, but don't want to eat from food stalls & boring pantry. We came to the rescue; order your online food on train with an Authorized IRCTC E-Catering Partner RailRecipe to enjoy the elite quality food. RailRecipe provides online fresh meals & quick food delivery services. We are serving over 350+ Railway Stations across different states across India. FSSAI approves RailRecipe restaurant partner and strictly follows all the guidelines to ensure food quality.
RailRecipe delivers hygienically prepared hot, delicious, and fresh meals (Pure-Veg, Non-veg, Chinese, Mexican, Sizzlers, Starters, Vegan, and Jain Foods) in trains. You can order fresh and delicious food with us in no time. You need to enter 10 Digit valid IRCTC PNR Number or through Train Number (e.g., 02393). Your ordered food will be prepared in the premium quality restaurants and delivered to your train berth as soon as the train reaches your scheduled railway station.
Get Food in Train Sleeper, Second Sitting, and All AC Coaches
RailRecipe serves an online meal in different train coaches. RailRecipe is an authorized IRCTC E-Catering Partner. You can order food online irrespective of their coaches.
You have to share details that include Train Numbers, PNR Numbers, or Train Stations. We will share updates for food delivery. RailRecipe offers hot and fresh food on train in more than 6000+ trains, including Mail/Express., Superfast Trains, Intercity, Garib Rath, Duronto, Jan Shatabdi, Sampark Kranti, Suvidha Express, Antyodaya Express, Yuva Express, Luxury Trains, Kavi Guru Express, Purushottam Express, Vande Bharat, Gatimaan Express, Double Decker Trains, Humsafar trains, Shatabdi and Rajdhani Express. These are some of the best trains where we get the most order from our customers.
RailRecipe offers the best food in all significant railways stations like Bhusaval, Bengaluru, Vishakapatnam, Vijayawada, Bhopal, Nagpur, Patna, Gaya, Agra Cantt, Kanpur Central, Prayagraj, Deen Dayal Upadhaya, Sealdah, Howrah, Santragachi, Guwahati, Hatia, Ranchi, Satna, Katni, Korba, Dibrugarh, Malda Town, Gurgaon, Vasco da Gama, Bhubneshwar, Puri, Khurda, Cuttack, Tatanagar, Raipur, Bilaspur, Ahemdabad, Jaipur, Mumbai Central, Bandra, Jodhpur, Sawai Madhupur, Kota, Dhanbad, Ratlam, Tundla, Ujjain, Indore, Jabalpur, Mangalore, Coimbatore and many more. RailRecipe and its FSSAI approved restaurant partners deliver hot and healthy food at every possible railway station, junctions, and central stations. Currently, we are serving food in train services at more than 350+ railway stations.
How to Order Fresh and Restaurant Food in Train with RailRecipe?
If a train passenger wants to eat fresh food on the train. Enjoy the food made by various experienced chefs with RailRecipe. They can order online food in quick, simple, and easy steps:
Visit RailRecipe's website www.railrecipe.com.
Order your favorite food in train easily with special dietary requirements.
Customize your menu accordingly; enter your details such as Train No., Train Name, contact details, Date of the journey.
You can place your order directly from the RailRecipe app.
You can easily find the application at Google play store or the IOS app store.
We are just one call away; ring our toll-Free number 844-844-0386 anytime from 6 am to 11 pm to get instant delicious food in train.
Train passengers can choose fresh, hot & healthy food from your selective restaurant chef or go for your fond dish while traveling by train. Food Thali Menu here below mentioned:
Maharaja Thali
Jain Thali
Fast food such as Pizza, french fries, and more
Why Choose RailRecipe?
Train routes are accepted as the most convenient way to travel by Indian passengers. The pantry food is unfit for consumption. Do you know you can order food from elite restaurants and get it delivered to your train seat during your journey? We recommend ordering food on the train from RailRecipe. We are an authorized e-catering partner of IRCTC who serves quality meals during your train journey.
We Serve You Hygienically Prepared Dishes from Premium Restaurants
We serve you hot & fresh meals from the premium restaurant of the town. Our delivery partner restaurants are approved by FSSAI and follow all the guidelines to take care of customers' health. The food served by us has the best taste of town that adds more pleasure to your journey.
We serve at 350+ stations in various states of India
Getting healthy and delicious food from the top restaurants of town isn't a dream anymore. We serve you from the elite class restaurant in the city. We are partnered with more than 500+ restaurants that deliver food on train across India. We are working continuously to make this number large.We are looking forward to covering every station in India.
FSSAI approves our Delivery Partner
Your health is our utmost priority. We only add the restaurants approved by FSSAI and keep their kitchen area clean and serve fresh food. We ensure that you love the food and enjoy your journey with our service.
Looking for Regional Food RailRecipe Cover, You All
Local Cuisine and Home Made food is no more dream during Train Journey. We cater to the passenger with a perfect blend of spices, taste, and love from home. We also provide various regional dishes options to our customers and take care of your special dietary requirements. We will serve you regional dishes irrespective of the town you are traveling to. Order food from RailRecipe and enjoys the famous south Indian dosa in Bihar, vada pav in Bengaluru, litti chokha in Odisha, and so on. Your wish is our command, and we at RailRecipe try to fulfill it anytime & anywhere.
Get Your Food on Train with Us
We deliver food on the train right on your seat. Avoid all the unnecessary hassle and order your food from us. Order your favorite meals from our application and website. Sit Back! Enjoy your meal.
Active Customer Support Team
Need assistance to order food from RailRecipe or regarding any other information. We are here to help! Our customer support team is working from 6 am-11 pm to help you during the journey. They will solve all your queries in no time. You can call us at 844-844-0386 and write us at support@railrecipe.com or info@railrecipe.com regarding any complaints, information, or suggestion.
Process of Delivering Food on Train by RailRecipe
The system of delivering food in train by RailRecipe is entirely digital. You just need to enter your PNR details, and we will serve your favorite meal directly on your seat.
We Cater food on 7500+ train
RailRecipe offers you online food delivery in more than 7500+ trains across India. You can easily get your favorite food on the train with RailRecipe in no time, including all pantry and non-pantry trains.
Get Food Directly on Your Seat with Train Number/ Train Name
Order food on train just by adding Train Name/Number. Add your journey details and Date, and you will gather all the information and provide you with different boarding options. Order food online from the vast restaurant options available in RailRecipe and enjoy the journey with the addition of the best taste.
Get Your Food Delivered in 450+ stations across India
Get your favorite meal delivered to your seat. We provide delivery service at more than 350 stations across India. Some of the major stations include Allahabad(PRYJ),Ahmedabad (ADI),Bhopal(BPL),Chennai(MAS),New Delhi (NDLS),Gorakhpur(GKP),Gwalior(GWL),Hajipur (HJP),Itarsi (ET),Jaipur (JP),Jhansi(JHS),Jodhpur(JU),Kolkata(KOAA),Lucknow (LKO),Ludhiana(LDH),Mathura(MTJ),Mugalsarai (DDU),Nagpur(NGP),Pune (PUNE),Patna(PNBE),Ratlam (RTM),Raipur(R),Rajkot(RJT),Satna (STA),Choose whatever you want to eat from the vast option range available to serve you the best food on train anywhere in India.
How to Order Food in Trains with RailRecipe?
You can easily order food on train from RailRecipe. The minimum waiting time will be of 60 minutes. Order on or before 60 minutes to pace the order. Here we are providing you with simple steps to order food on the train:
STEP 1: Open the RailRecipe official website www.railrecipe.com
STEP 2: Enter your PNR details.
STEP 3: Click on Order Now option after entering your PNR details.
STEP 4: Enter your journey details.
STEP 5: Choose your desired station where you want to eat the food.
STEP 6: Choose your desired restaurant from the list and order your favorite dishes.
STEP 7: Choose your desired payment gateways either online or "Cash on Delivery."
STEP 8: Relax and enjoy your journey. Your freshly prepared meal will serve you at the desired station at the scheduled time.
How to Order Food from RailRecipe App?
STEP 1: Download the RailRecipe app from the Google/ IOS app store.
STEP 2: Enter your PNR details or train number to order food on the train.
STEP 3: Select your desired boarding station to get your food delivered.
STEP 4: Choose various dishes and restaurants from where you can order food
STEP 5: Use different payment gateways for online payment or opt for COD.
STEP 6: Your food will reach your seat at your desired station on time.
How to Order Food on Train by Using RailRecipe Toll-Free Number?
1. Call us directly on our Toll-Free Number 844-844-0386 and place your order by sharing PNR details or train Number.
2. You will soon receive a confirmation message regarding your order.
3. You can track the order status on our app or website by sharing your order ID.
4. Get your food delivered to your train berth at the desired station.
5. Pay via COD or online gateways.
How do we work as IRCTC Food Delivery Partner?
1. Once you place the order with us, we share the information for the acknowledgment to our backend team.
2. After successfully verifying your PNR number and passenger's detail, the order gets acknowledged.
3. We share the notification to our delivery partner restaurants of the desired station.
4. Next, another notification is shared with the customer, which shares order confirmation details.
5. After getting the details from our catering partner, we confirm the order by cross-checking your number.
6. Food is prepared in a clean kitchen and packed appropriately and hygienically.
7. Our delivery executives deliver the food on train to your seat
Frequently Asked Questions
Is it possible to get food if the train is running late?
Yes! We always keep track of the running status of the train to ensure you don't miss any orders. If your train is running late more than 2 hours, we will get confirmation from you that you still want food or not. If your train reaches late beyond service time, i.e., 6 am-10 pm, and then your order automatically gets canceled. The refund will be processed by us instantly & will reach you within 7-10 working days.
What are the steps to check my food on train order status?
After you place your order, you will get an order id on your mobile number. Visit our tracking order status page and enter your order id & mobile number to get the current status of your order.
What if I want to cancel my order?
If, for any reason, you want to cancel your order, call our customer support executives at 844-844-0386 stating your reason for cancellation. Our team will be ready to help you and will cancel your order.
Conclusion
Order online food on the train with RailRecipe; give us a call at 8448440386. Also, please send us Feedback on the Authorized IRCTC E-Catering Partner RailRecipe Official Facebook Page. Every train passenger's feedback is equally essential for us.
Travelers Love Our Services
Few of the honest review from our valuable customers who rated RailRecipe's service with Avg. rating of
Macher-Bhaat, the all time favorite. Ordered and the taste was amazing. Packaging could have been better. That's why I am giving 4.5 stars. Else, everything was awesome.
Madhulika Mukherjee
Traveling during the corona was always the last thing I wanted to do. But, I was getting back to my home via train and I ordered food from them. The delivery was very nice and packaging was good enough. It also had a small sanitizer sachet which ensured proper safety. Great work Railrecipe!
Sneha
First time in India, I was traveling and tried out the service of Railrecipe. I wasn't sure of these services were good. But, it turned out to be a great experience. All-stars to their effort and service.
Alex Beadon
Love for south Indian food made me try them out while traveling to Vijayawad. Awesome Experience!! Very much recommended- Thanks a lot RailRecipe!!
Jainab
Got my food delivered at Ratlam Station. Food was tasty, hot, and up to expectations. I usually travel in this route and would recommend everyone to try it out.
Rakesh Tripathi